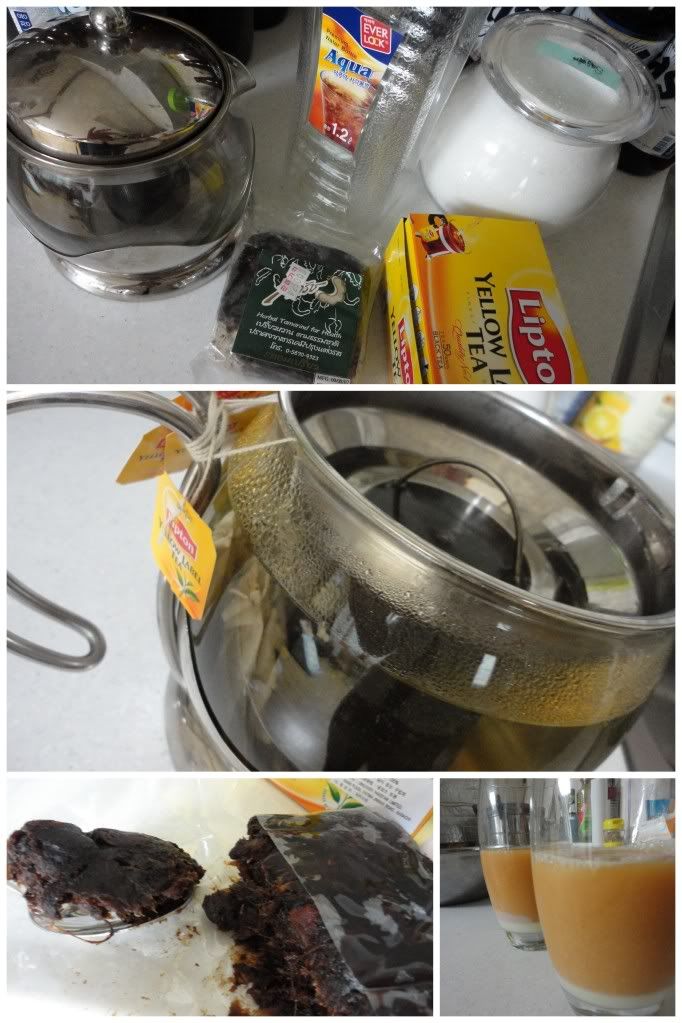 I have a deep and special love for Thai Tea. I made it a personal objective to drink at least 1 glass of Thai Tea everyday I was in Thailand...some day's I'd down 3 or 4. I love the sweet-creaminess of Thai Tea and want so desperately to recreate it.
One aspect of Thai Tea that is 'crucial' is the orange color. Online recipes generally suggest one of two things: a) Add Orange Food Coloring *lame* or b) Purchase Thai Tea Leaves (which is always followed by a comment regarding the difficulty of purchasing/finding Thai Tea Leaves).
But the thing is, the orange color comes from Tamarind. So one should be able to recreate Thai Tea with REAL tamarind. That's what I'm attempting to do...it's not perfect yet, but it's always been delicious so take a shot at Thai Tea with Real Tamarind.
Ingredients/Directions:
In a standard sized tea pot add about
1 Tbsp Tamarind
(found in Asian/International Markets) -- best to put into a strainer or tea bag as it will not fully dissolve and will need to be strained out at some point in the process. Add
5-6 Teabags or teaspoons of plain black tea/Lipton
and
sugar to taste
. Fill with boiling water, let set for an hour or so (this could be the part I don't have perfected...just saying) Transfer to pitcher or water jug and refrigerate. Serve with
Sweetened Condensed Milk
, enjoy!