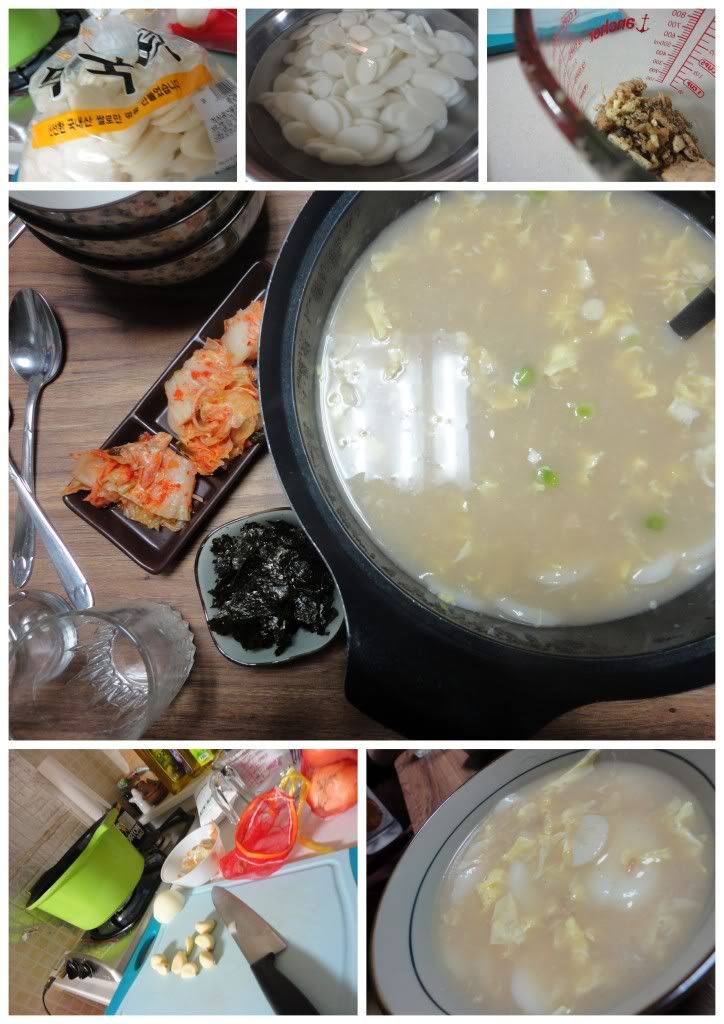 You can have a new year in Korea without having a bowl full of Ddoek-guk. And when we opted to host a Redneck Life game night on the 2nd of January our friend Aaron and a Korean friend decided it was good and appropriate to bring us a bag of ddeok-guk-ddeok (the rice cake noodles specific to this soup - pictured top left and top center). So I did a bit of research and whipped up an incredibly large pot of ddeok-guk one week after the new year!
The
original recipe
calls for boiling beef in the first step but since I still have an abundance of freezer goods including
shredded pork
, I went that route.
Ingredients/Directions:
In a large pot bring to boil 1/2 onion, 3 scallions and 8 smashed garlic cloves with 10 cups water (or mix of water and choice of broth). Reduce heat and simmer (1 hour if you added beef, 20-30 minutes if you're using freezer pork). Meanwhile, soak ddeok, Korean rice cake, in a bowl of cold water about 20-30 minutes. Mix 1/2 lb. cooked meat with 2 minced cloves of garlic, a touch of sesame oil, salt and pepper (can be used as topping or thrown into broth after the next step). Strain onion, scallions and garlic from broth pot. Drain ddeok of cold water. Add deok and meat to the boiling broth, let boil for 8-10 minutes until ddeok is soft and chewy. Whisk 2-3 eggs, drizzle into soup, let set about one minute before stirring. Serve soup with crushed seaweed on top and welcome in the New Year!