Extended Shelf life for: Blackberries
Normally, we dive a lot of potatoes and onions and a few other random produce items. Rarely we dive blackberries. Very rarely we dive an entire flat of blackberries. And even more rarely do we dive such an immense amount of berries and find that they are all incredibly edible! Would you believe that out of all these pints of blackberries I only threw two away? Unbelievable!
Of course, in these moments, my heart is truly torn: there's the heart that is thrilled to be cooking, chefing and crafting with blackberries and then there's the part of my heart that's devastated that I live in a society that can justify waste to this degree.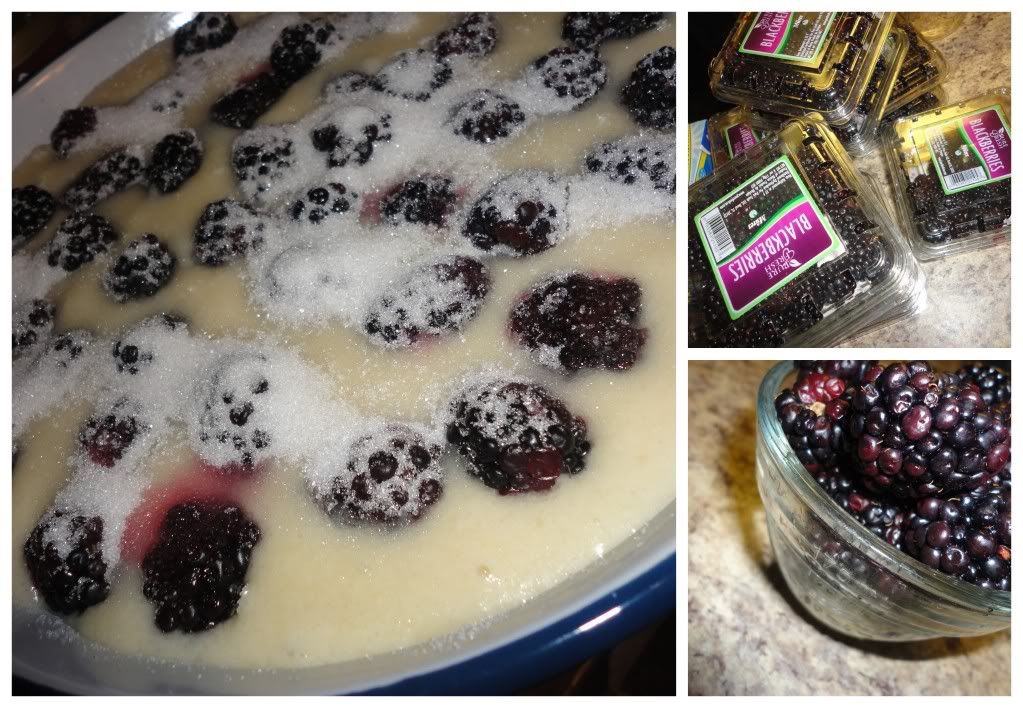 But of course, when life hands you blackberries you do a little victory dance and hit up the world-wide-web to find the best there is in Blackberry Cobbler's and it's not long before you find yourself on the doorstep of
The Pioneer Woman
.
The recipe I used is
exactly
the recipe posted by The Pioneer Woman (because who changes one of her recipes? Seriously?
But of course, I'll type it out in that special way I have ;)
Ingredients/Directions
:
Melt
1 stick of butter
. In a mixing bowl, stir together
1 cup Sugar
and
1 cup Self-Rising Flour
(make your own by adding
1 1/2 tsp. Baking Powder
and
1/2 tsp. Salt
). Slowly whisk in
1 cup milk
. Add melted butter and whisk together.
Butter a baking dish.
Wash and pat dry
1 pint (2 cups of Blackberries)
. Pour batter into buttered dish, drop berries on top, sprinkle up to
1/4 cup additional sugar
on top. Bake for 1 hour at 350 until golden and bubbly. Enjoy as is or with Vanilla Ice Cream (could you believe we dived ice cream the same week as blackberries! what luck, eh?)