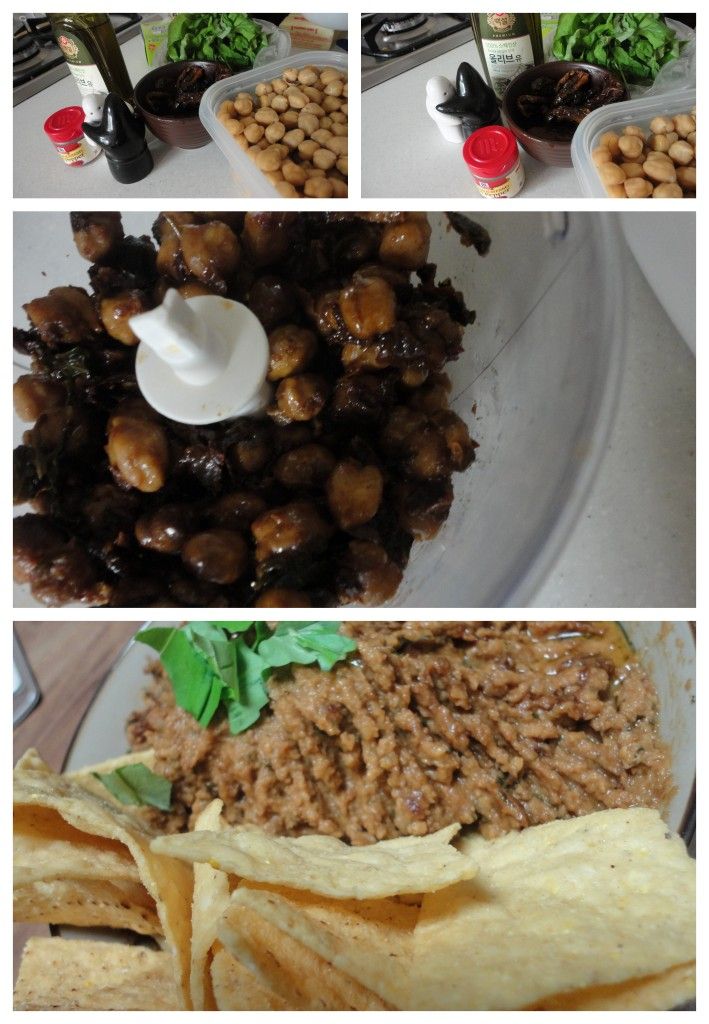 I started with
this recipe for a Warm Chickpea Salad
thinking it'd be great for a day trip Mike and I had in the works. But then, it seemed I'd rather eat more than this salad on the day trip which was turning into a festival outing which promised enticing food items, so... I put the salad on hold, letting the flavors soak in just a touch more.
By the time Monday evening rolled around, I sat staring at a jar of nicely seasoned chickpeas and sun-dried tomatoes and I thought to myself, I want that to be dip-able, I want to dip some chips in that - so into the food processor it went before entering our bellies on numerous corn tortilla chips.
I think it'd make a delicious salad, so you can go that route as well, the directions are for the salad - to get the 'hummus' simply throw into a food processor!
Ingredients/Directions:
In a large skillet over medium heat, warm 3 Tbsp. EVOO, add 2 Tbsp. Cumin Seeds (or a shake of cumin if you don't have the luxury of easily attained spices) and 1/4 tsp. of Crushed Red Pepper and cook for 1 minute, stirring constantly until toasted and aromatic. Reduce the heat to medium-low and add 4 minced Garlic Cloves, cook 3 minutes until golden. Next add 2 - 15oz- Cans of Drained Chickpeas and 1/2 cup chopped Sun-Dried Tomatoes. Turn heat up to medium-high and cook until chickpeas are warm and shiny with oil. Remove from heat and add a splash of Lemon Juice and fresh (or conveniently frozen) herbs of your choice (I threw in a couple of basil cubes). Salt and Pepper to taste, let set for at least one hour, serve at room temperature or throw into a food processor for a delicious and rich 'hummus'