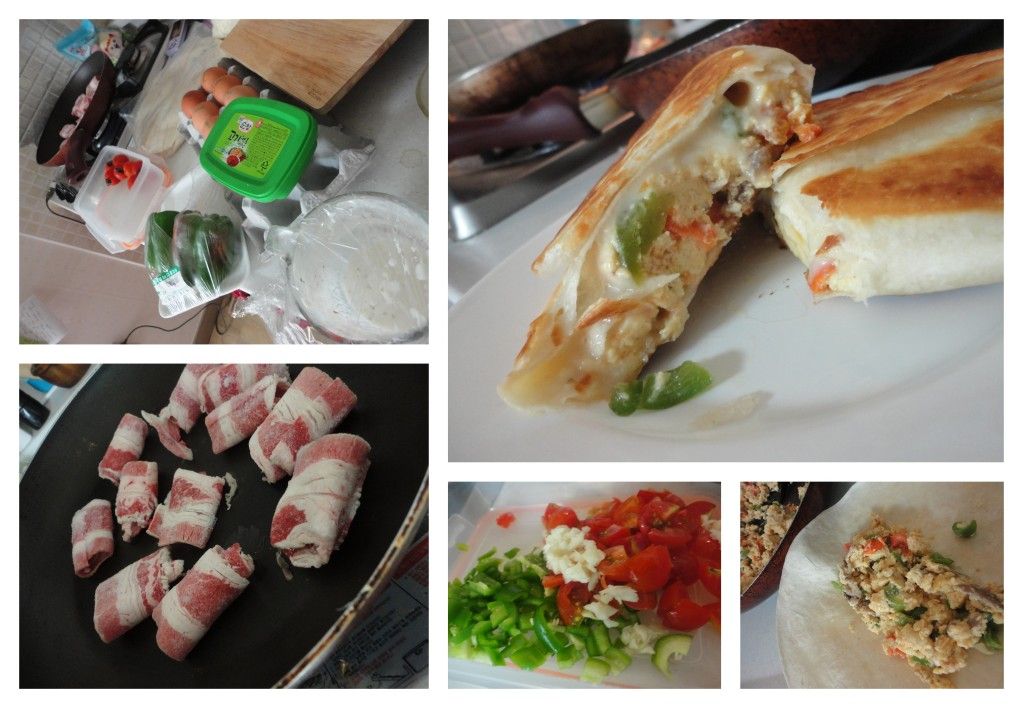 Samgyupsal is Korean three-layered pork which resembles bacon but doesn't have that cured and salty factor the American bacon possesses. Regardless of your opinion on how bacon/pork should taste, Samgyupsal is delicious as a grilled/BBQ'd meat which is the typical serving style here in South Korea - but it also makes for a nice addition to various dishes including good ole Saturday Morning Breakfast Burritos.

Also, i did these burritos up with some additional flare because it just so happened to be a day when I need to clear a few things out of the refridgerator - so while I add a common Korean meat dipping paste and a few tablespoons of ranch to my eggs, it's not really necessary, but helpful if you find yourself in need of clearing out some room in the fridge.

Ingredients/Directions:

In a large skillet, fry up some thinly sliced samgyusal until cooked through, use scissors to cut the pork into bite size pieces. If loads of fat have been rendered, drain some off, however about a Tbsp. or so will be a nice way to add flavor and non-sticking power to 1 chopped Green Pepper a handful of diced Cherry Tomatoes and 2 cloves of minced Garlic. While sauteing the pork and the veggies, beat in a seperate bowl 6-8 eggs with no more than a 1/4 cup of ranch and a Tbsp. or 2 of Korean bean paste for dipping meat. Make sure sufficient oil/fat remains in the skillet to keep the eggs from sticking before pouring it over the meat and veggies. Let egg set slightly before using a spatula to break up the egg and continue cooking. Throw the mix in a flour tortilla, top with cheese, fold it up and throw on to a hot, dry skillet to melt the cheese and make the outside crispy. Enjoy!