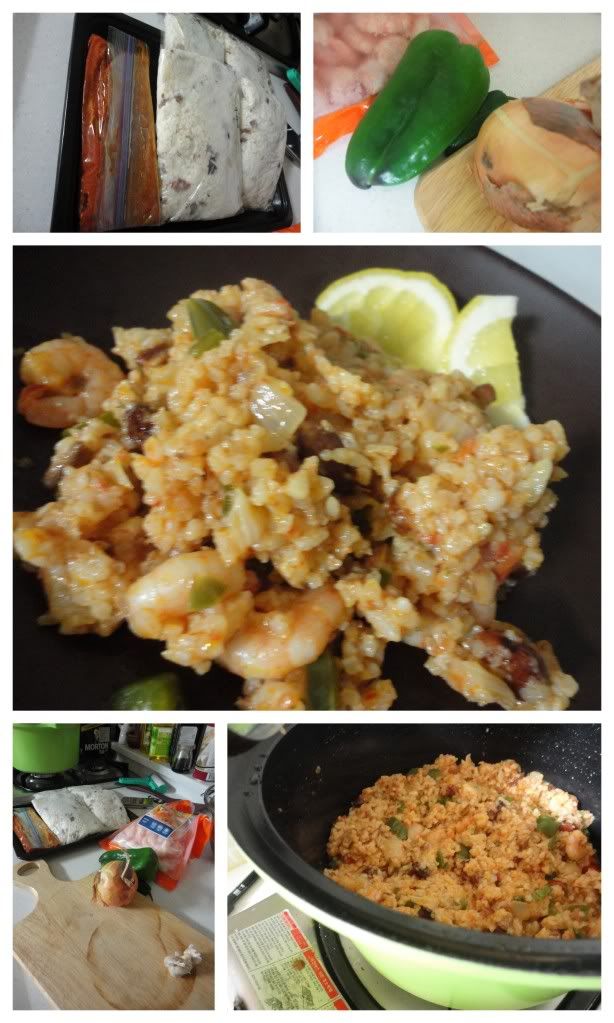 Starting to use some of my pre-made freezer goods since I've been living in the uncomfortable space that is two MAED courses simultaneously (we've also eaten a TON of fried chicken...don't judge) Regardless, having food stuff ready and waiting in the freezer is awesome when I want to have somebody over, eat something relatively fresh and home-made and want to get to work on my MAED in a reasonable amount of time.
So, October saw the creation of Rachel Ray's Spanish Rice and Shrimp - a simple, simple compilation of:
4 cups Rice Pilaf
, heated in
2 Tbsp. EVOO
, set aside in a bowl.
4 cloves Garlic
, chopped plus
1 lb. Deveined, Peeled Shrimp
and
1 Tsp. Paprika
heated in same skillet as Rice Pilaf.
1 cup Tomato Sauce
and
1 cup Roasted Peppers
added unto the Shrimp mixture and heated through.
Pilaf returned to the pan, mixed, heated served with
Parsley
(if available) and
lemon wedges.
Enjoy with friends and a glass of home-made wine or any wine should do.