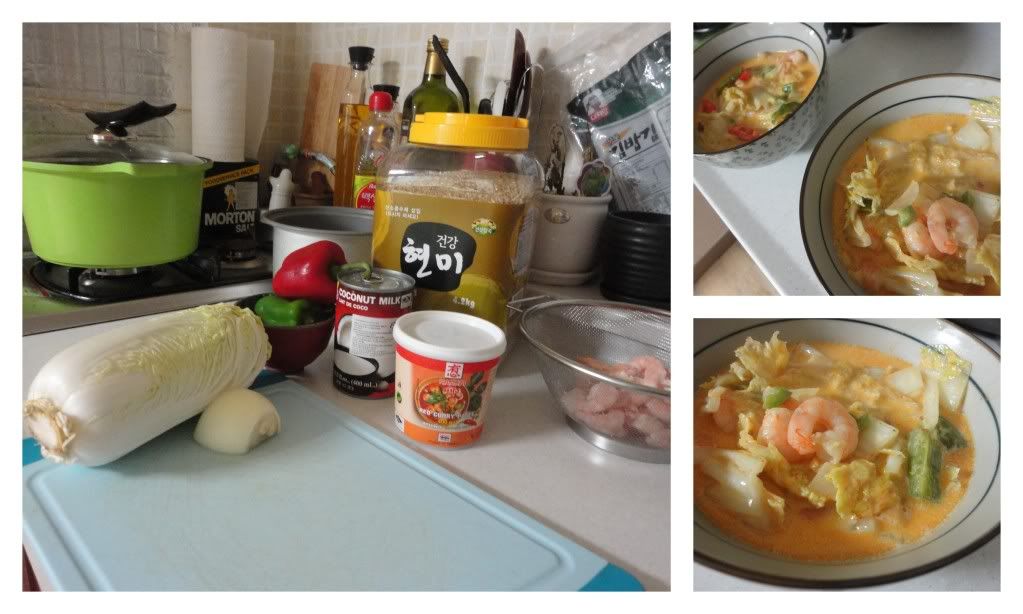 There's no real reason I should post this as a recipe...
This is one of those times I just need to make a 'mental'/blog note regarding what I've done that is semi-successful when I have random foodstuff in the fridge.
I'm not talented with premade things...hence, soup-ness, it shouldn't have been so soupy...oh well. It was edible...that's what matters at the end of a long day.
I wanted my
veggies (cabbage, bell peppers, onions)
to have a bit more character than normal so I prepared them
using the same method I did here
and then set them aside on a plate.
Heat a bit of oil in a pan, add 1-2 Tbsp. red curry paste and mix.

Dump in a can of Coconut Milk (I also use a small bit of water to get the extra coconut milk off the tin can insides...so a half cup tin of water contributes to soupiness).
Bring to a boil, reduce heat, throw in some shrimps - 1-2 cups, heat through, add veggies, a touch of fish sauce if you have it on hand, heat through and serve over brown rice. You'll enjoy it...I'm sure.