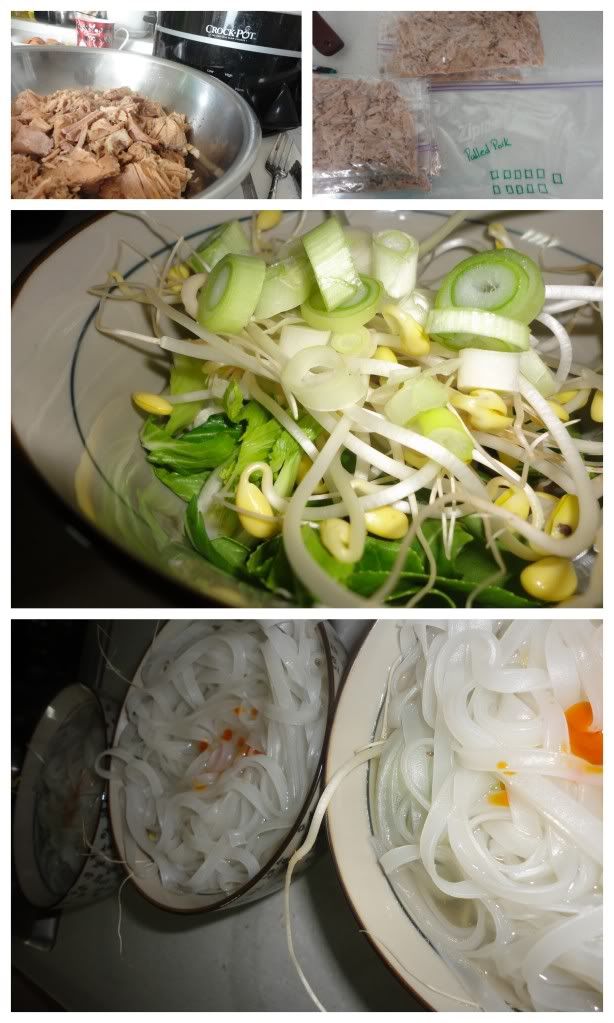 Once again, thanks to a plethora of frozen foods, the Man and I plus our friend Aaron had a decent meal regardless of the hours I had spent and still needed to spend sitting at a computer busting out MAED papers and such.
So, with a bag of thawed pork and a few fresh ingredients including: ginger, bok choy, bean sprouts and green onions, I set to work on these Ginger Pork Noodle Bowls
Ingredients/Directions:
(from Everyday with Rachel Ray - September 2011)
Soak
rice noodles
in warm water. In a large pot bring
1qt. of beef or pork broth
,
4 cups water
and a
1 inch sliced piece of ginger
to a boil. Divide
1 cup
(or two if you want more meat)
pork
,
6 baby bok choy
,
1 1/2 cups bean sprouts
, and
1/4 cup sliced green onions
among 4 large soup bowls. Divide soaked noodles into four equal portions. Using a mesh strainer lower one portion of noodles at a time into the boiling broth for 1-2 minutes. Transfer noodles to soup bowls, continue until all noodles are cooked. Ladle hot broth into bowls serve with
fresh cilantro
,
lime
and
hot chili oil
.