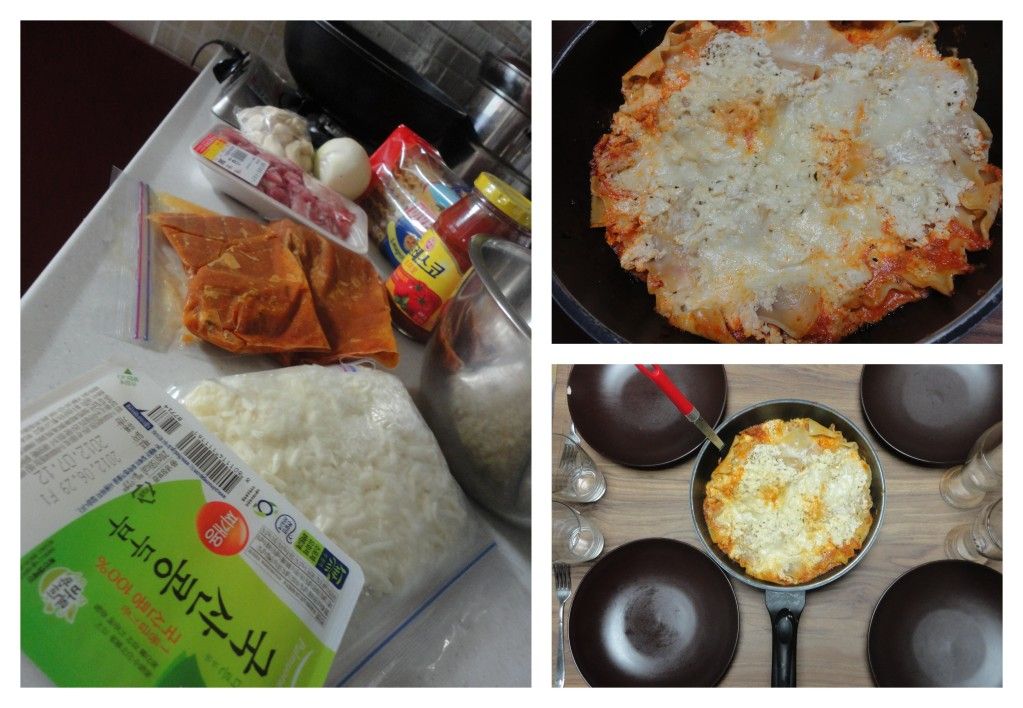 A while back I inherited some lasagna noodles when saying farewell to more than a couple of friends who were departing the land of kimchi. However, lasagna and Korean toaster ovens aren't necessarily the best match-up. Nor is it possible to find ricotta or cottage cheese and while it's possible to make either of those without too much effort, it still requires effort and planning ahead...
Fast forward more than a couple of months to a dinner date with some Korean friends, one of whom enjoys cooking and baking and even knows a deal more than the typical Korean regarding western foods. During conversations of food I learned that her and her husband have come to enjoy lasagna on a relatively regular basis and have happily discovered that the ever ready and available tofu is a perfect substitute for ricotta!
With renewed inspiration and motivation I again pursued the making of a lasagna, sure that while it may fit in the oven, I didn't have an ideal pan, I dug from my memory brain box a post on Pinterest for a Skillet Lasagna and set forth on lasagna making adventures.
Ingredients/Directions:
Squeeze the excess moisture out of 1 pkg of Firm Tofu and season with Salt, Basil, Oregano, Black Pepper, and 1/4 cup Grated Parmesan Cheese. Set aside.
In a large skillet brown
1 lb. Ground Beef or Pork
and choice of
veggies
(onion, zucchini, etc) and
2 cups of Pasta Sauce
(I used a couple baggies of
home-made sauce from my once-a-month-adventures
). Remove about half of the sauce from the skillet and set aside.
If you have no-boil Lasagna, use those, otherwise boil water and semi-prepare non-boil lasagna noodles while making the tofu/cheese mixture and sauce.
Over the top of the sauce that remains in the skillet place 2-4 lasagna noodles, covering the sauce as completely as possible. Layer about 1/2 or 1/3 of the Tofu Cheese Mixture followed by sauce, noodles, etc. until the pan is filled. Top it off with shredded mozzarella cheese, cover the skillet, reduce to medium-low heat and cook for about 20 minutes, let set for 5 before serving.
Enjoy with a nice baguette.