This is a dearly beloved brain-child of mine which I believe will have only a handful of lovers, yet for me, it is worth it!
I've lived in South Korea. I've
mastered the art of making and fermenting Kimchi
. And now I'm bringing the two worlds - East and West - together in a truly delectable fashion.
I was pleased with this pizza experiment. And truth be told, so were our guests (all family...who did visit us in South Korea). Definitely something that has potential to be a 'signature' dish.
And, I tried out another Beer Crust, with much success!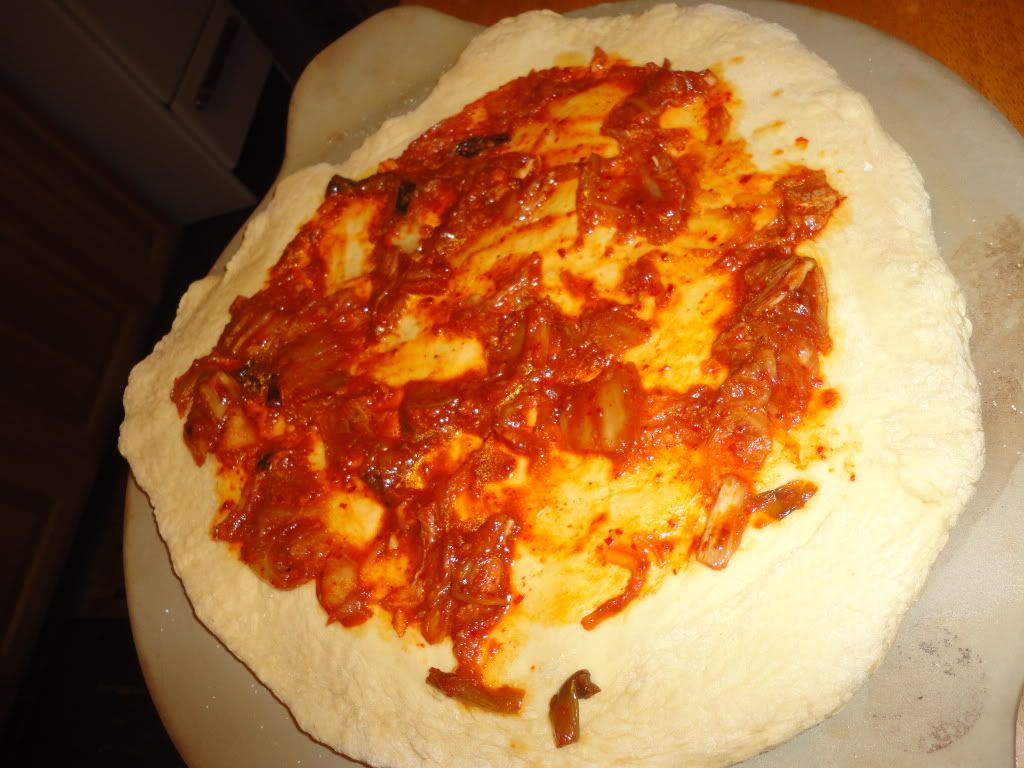 Raised Beer Bread Pizza Crust
:
You can either throw these ingredients into your bread machine per bread machine directions (our machine requires wet ingredients on bottom). Or you can follow these simple directions:
Mix together
4 cups Flour
,
2 1/2 tsp. Active Yeast
,
1 tsp. Baking Powder
, and
1 1/2 tsp. Salt
. Add to these dry ingredients
2 Tbsp. Olive Oil
and
1 1/2 cups Beer
, mix together.
Turn out onto a floured surface and knead about 10-15 minutes.
Place in lightly greased bowl, cover and let rise until about doubled 2-3 hours. Proceed as with other crusts.
For the 'sauce', I heated up a bit of
Sesame Oil
before tossing in some fermented
Kimchi,
Soy Sauce
and
Go-ju-chang
(Korean red pepper paste). This was then spread on the crust, topped with
Mozzarella Cheese
and
Green Onions
.
Definitely unique and ultimately, delicious!