Not so much a recipe for extending any shelf life, this is a part of my master-mind plan to develop and master some pizza goodness....because, who doesn't love a good homemade pizza...and because, I just might need to know a solid thing or two about pizzas in the upcoming months ;)
So, after Christmas with family and gifts which would encourage this endeavor, such as a pizza stone and a new cookbook, I was ready to hit the ground running and kick pizza experimentation into full gear. With all the time and inspiration in the world, I prepared a couple of pizzas post-Christmas while the family played games and read new books, there couldn't have been a more peaceful home while dinner preparations were in the works and it's unlikely there could have been a more delighted group of folks once the pizza was prepared.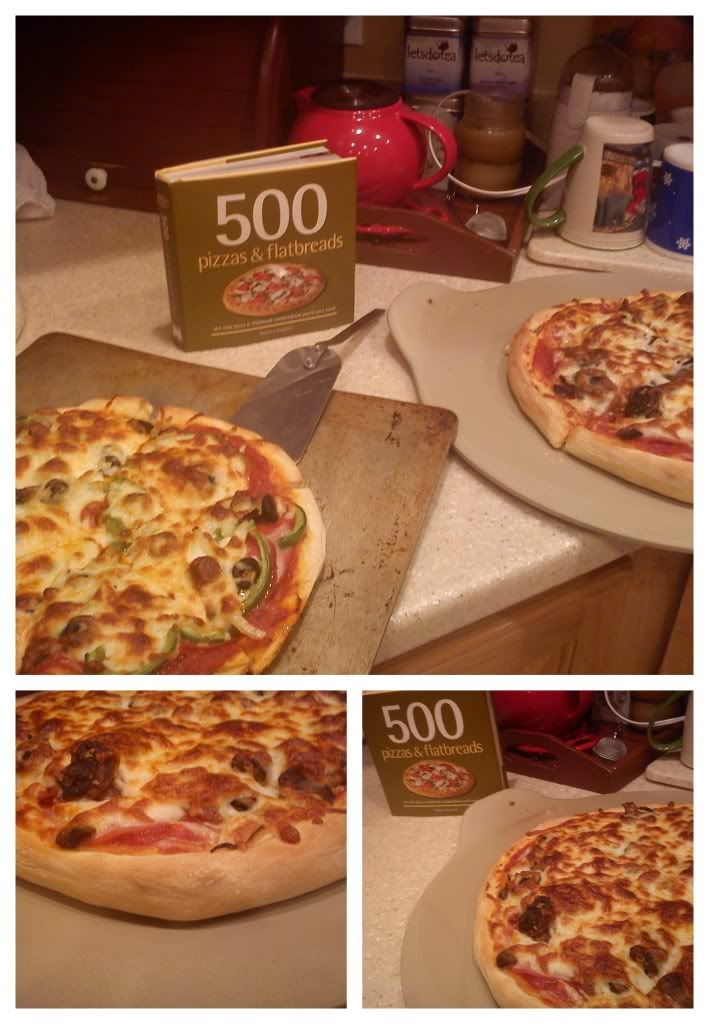 Pizza Crust
Ingredients/Directions:
From the Cookbook:
500 Pizzas & Flatbreads
Classified as 'basic neapolitan pizza crust', this recipe will give you enough for two 12-inch pizzas.
Begin by sprinkling
1 tsp. Active Yeast
over
1 1/4 cup Warm Water
. If you have a standing mixer, use the bowl for that otherwise you'll be doing it by hand in a large mixing bowl. Let water and yeast set for 5 minutes.
Add
1 tsp. Salt
, then mix in a total of
3 cups of Flour
, one cup at a time (it's recommended to use 2 cups bread flour and 1 cup all-purpose flour, I however, only used the latter). Kneed or mix with a dough hook once it begins to form, for about 5 minutes until the dough is smooth and elastic.
Divide dough in half and place in separate, lighly oiled bowls. Roll dough around so as to transfer a bit of oil onto the dough ball itself.
Cover bowls with flour cloth or paper towels and allow to rise for 2-3 hours until dough has doubled in size.
When the rest of your pizza is ready to assemble, simply roll out dough, using additional flour as needed and prepare for your pizza-eating pleasure!
Pizza Sauce
Ingredients/Directions:
From the Cookbook:
500 Pizzas and Flatbreads
So simple, so delicious.
Heat
3 Tbsp. Olive Oil
in a large, heavy frying pan, add 1 minced Garlic clove and cook 1-2 minutes. Add one
28-oz. can of Whole Tomatoes
, breaking them down with a wooden spoon. Simmer for
15-20 minutes until sauce has thickened
and liquid has evaporated. Season with
salt
,
oregano
,
red pepper flakes
and other seasonings of choice.
Pizza Toppings
Not rocket science...
For these experiments I prepared one pizza using the following ingredients after spooning on some sauce:
Pepperoni, Sliced Summer Sausage, Canadian Bacon, Sauteed Mushrooms and Caramelized Onions
The other pizza was similar yet different and was topped, after spooning on sauce, with:
Pepperoni, Canadian Bacon, Fresh Onions, Olives
Both were delicious and well received...what more could you ask for?