Extended Shelf Life for: Blackberries, Orange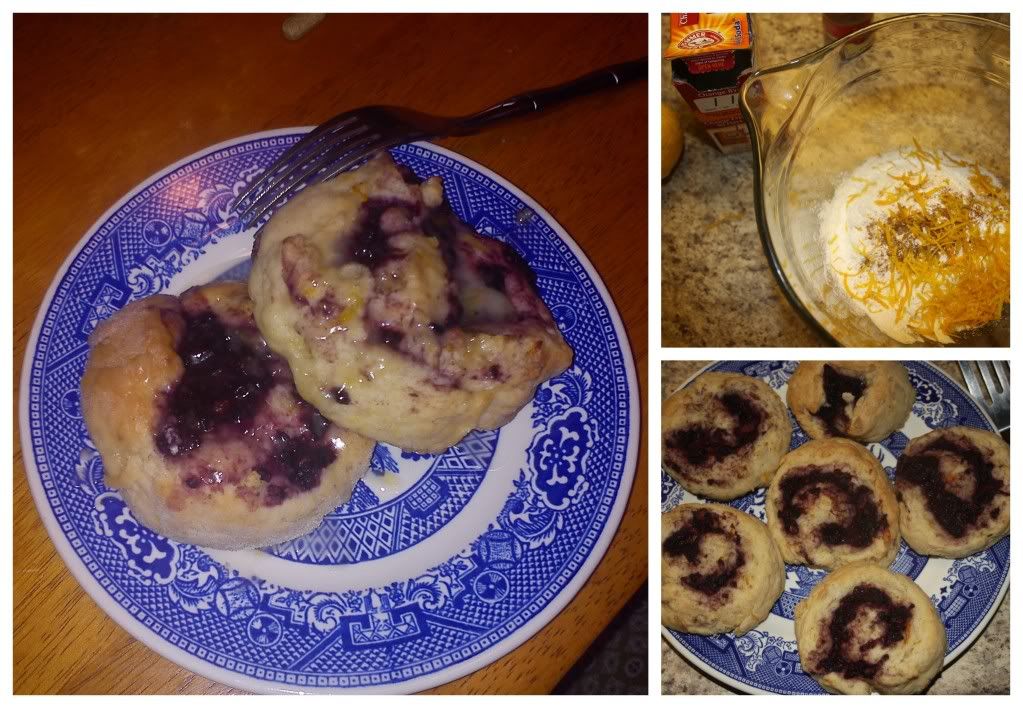 Sometimes, brilliant ideas are spawned from a dumpster arrival of blackberries and an orange already on the shelf, waiting to be used. And sometimes, those brilliant ideas are compounded by the fact that one of your favorite, most spectacular friends has a birthday the next day.
So you dream and ponder and before you know it your pulling Blackberry-Orange Biscuits Rolls out of the oven, drizzling them with a fine orange glaze and praising the Lord for creativity, dumpster abundance and birthdays!
Ingredients/Directions
:
Preheat oven to 450 Fahrenheit.
In a bowl stir together
2 cups All Purpose Flour
,
1 Tbsp. Sugar
,
2 tsp. Baking Powder
,
1 tsp. Orange Zest
,
1/4 tsp. Salt
and
1/4 tsp. Baking Soda
. Cut in
1/2 cup Butter
with a pastry blender until mixture is coarse and crumbly.
Make a well in center dry mix and add
6 oz. of Yogurt
and
1 Tbsp. Milk
, mix with a fork until just moistened.
Turn dough out onto a lightly floured surface and kneed 10-12 strokes until dough is smooth. Pat or roll dough out to 1/4 - 1/2 inch thick.
In a small bowl, sprinkle a handful or
1/2 cup of Blackberries
with
Sugar
and mash with a fork. Sprinkle with
1-2 tsp. of Cornstarch
and mix again.
Spread Blackberry mixture onto biscuit dough. Carefully roll dough as you would for cinnamon rolls.
Carefully slice the biscuit log and create biscuits that about 1/2 inch thick. Place on a lightly greased baking sheet and bake for 10-15 minutes until dough is golden brown.
For the Glaze
:
In a small bowl, combine
3/4 cups Powdered Sugar
with
1 tsp. Orange Zest
and
3-4 tsp. of Orange Juice
until you reach glazing consistency.