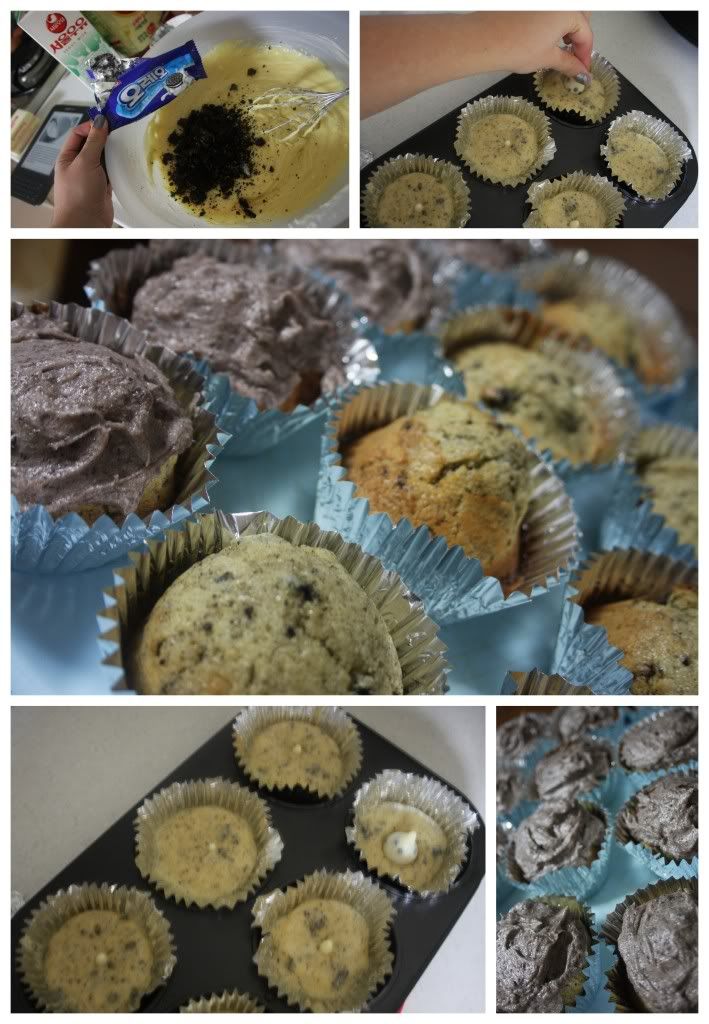 When living life so far from loved ones (and consequently Western Holiday preparations) it can be difficult to remember how to celebrate holidays, or more accurately, that one should prepare special foods for the holiday. Fortunately, I had been brainstorming these cupcakes for months and finally felt the proper amount of motivation upon realizing it the Easter holiday had indeed arrived.
Cookies and Cream Cupcakes
I
ngredients/Directions:
Adapted from
Easy Cupcake Recipes: A simple Step by Step Sweet Cupcake Book
and
inspired by
this pin
on Pinterest.
Cream together
1/2 cup softened Butter
and
2/3 cup White Sugar
. Whisk in
3 large Eggs
followed by
1tsp of Vanilla Extract
. In a separate bowl mix together
1 1/2 cups Flour
,
1 1/2 tsp. Baking Powder
and
1/4 tsp. Salt
. Alternately add this flour mixture and
1/4 cup milk
into the butter and egg batter until everything is incorporated. Fill muffin cups 1/2-2/3 with batter and cook in a preheated oven at 350 *F (177*C). After 5 minutes, remove cupcakes from the oven and press an unwrapped
Hershey's Cookies and Cream Kiss
into the cupcake batter. Return cupcakes to the oven and continue to cook for 12-15 minutes until toothpick comes out clean. Allow to cool (or steal one while the kiss is still warm and gooey) before frosting with Cookies and Cream Frosting.
Cookies and Cream Frosting
Ingredients/Directions:
Adapted from
Lick the Bowl Good
Good for 12 Cupcakes
In a large bowl, cream together
1/2 cup Butter
,
1/2 tsp. Vanilla
and
2 Tbsp. Milk
. Add
1 1/2 - 2 cups Powdered Sugar
until desired sweetness and consistency is achieved. Finally, mix in
7 finely crushed Oreo's
(original post recommends food processor) and you're ready to frost your cookies and cream cupcakes!
For more sweet eats, check out Sweet as a Sugar Cookies...