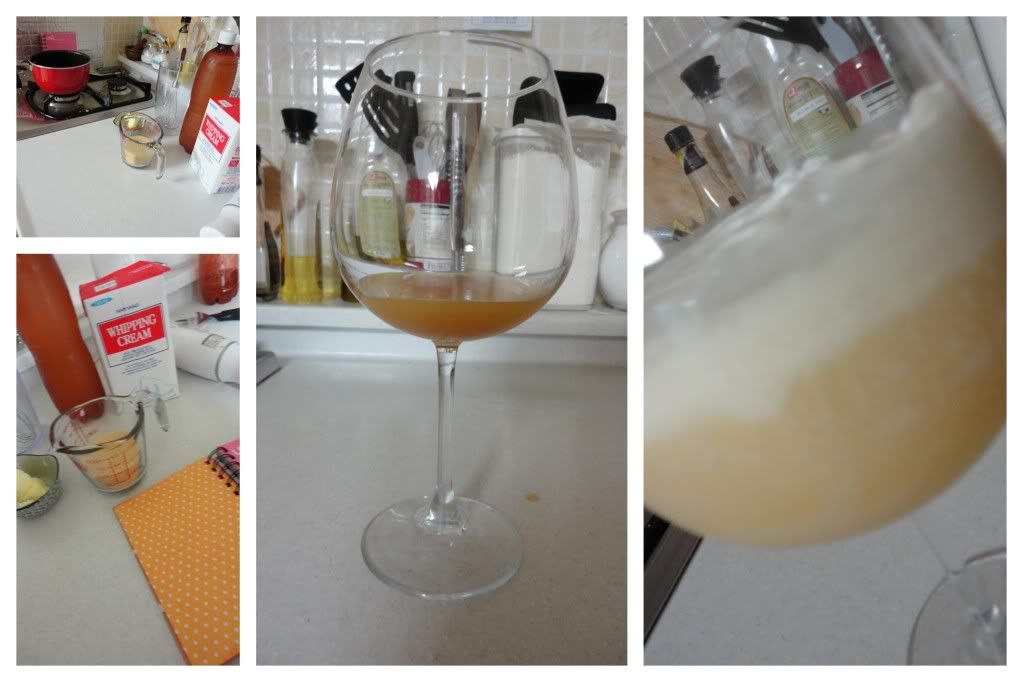 There is absolutely no reason one should avoid trying out this fabulous beverage! Even while living in South Korea where Cream Soda does not exist, we took action,
made our own cream soda
and I would do it again, and again, and again...because this. was. phenomenal.
Thanks to Pinterest, I came across
this recipe
which supported my own creation of Butterbeer.
Ingredients/Directions:
In a saucepan melt together
1 cup of Brown Sugar
and
2 Tbsp. of Water
(if you have a candy thermometer it should be at 240 F -- otherwise, bring it to a boil and hope for the best). Stir in
6 Tbsp. of Butter
,
1/2 tsp. Salt
,
1/2 tsp. Cider Vinegar
, and
1/4 c. Heavy Cream
, let set and reach room temperature...or not. In a bowl or tall measuring cup mix
1/2 c. Heavy Cream
and
2 Tbsp. of the Brown Sugar mixture
until not quite whipped cream. Split the rest of the Brown Sugar mixture between 4 glasses (or however many servings worth you desire - we did 10 small cups), fill with a bit of
cream soda
(nearly to the top) and spoon some whip topping onto the top before sitting down to watch Harry Potter #7 pt. 1 in anticipation for pt. 2! You'll definitely come back for more!