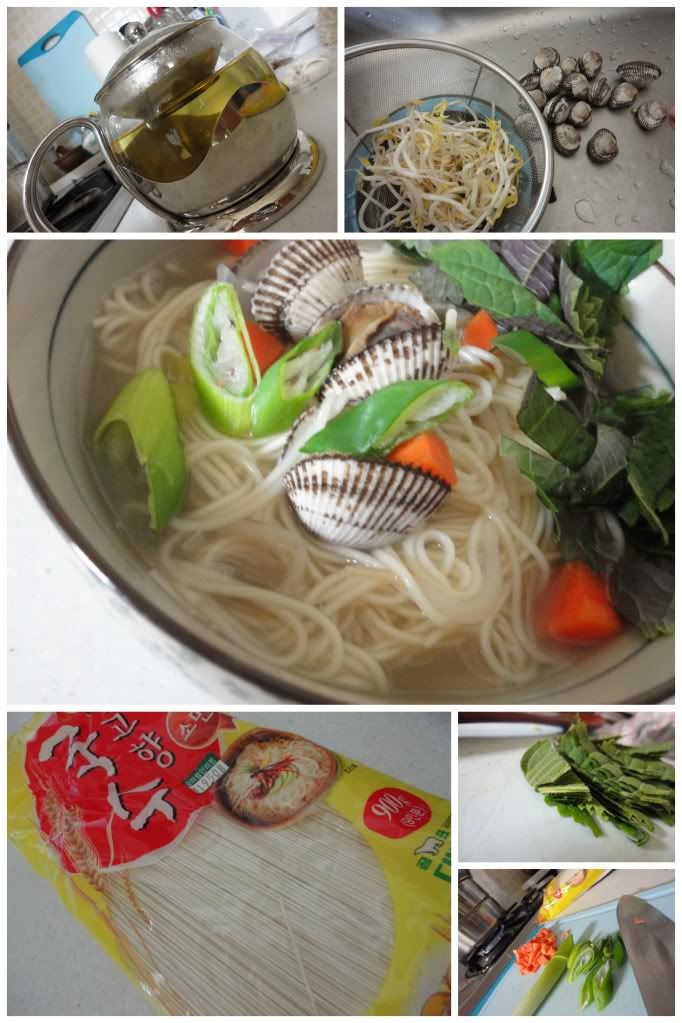 I am in the perfect situation to experiment with ingredients I've never had easy access to, and considering my love of food-centered experiments, this is
the
perfect situation! Within my first month of life in South Korea I picked up a package of noodles which I made assumptions about, created
this dish
, and knew it could have been better. Well flash foward a few months and a LOT more Korean-dining experiences later and I've just about clued into this particular noodle. Hoping I could incorporate this noodle more as it ought to be, I attempted a bit of 'fusion' cooking using ideas from
a previous cooking class
and my own innovations to whip up this pot of Clam Noodle Soup.
Ingredients:
A dozen Clams
Handful of Bean Sprouts
1/2 Carrot, diced
1 Leek/2 Green Onions, sliced
6 Sesame Leaves, chopped
3-4 cups Broth or Tea
Korean Noodles (could substitute spaghetti, udon, ramen)
Salt and Pepper to seasoning
Directions:
Wash clams.
(I've since learned there's a lot to this process and I've far from perfected it, chime in if you have advice; here's what I've learned: scrub down clams, soak in salt water for several hours. Add cornmeal to expel grit and such - I tried oatmeal as cornmeal is a hot commodity here in the ROK, scrub again, then boil, prepare as directed. If clams do not open during boiling process they are bad. Summary of information I found
here
.)
In pot, bring broth/tea to a boil, add rinsed and clean bean sprouts to the pot with clams, boil with lid on for about 8 minutes. If clams are opening up, add carrot, simmer for about 5 minutes until carrot is tender. Add noodles, cook until tender.
(For a more accurate Korean dish, prepare noodles separately, drain of liquid serve with broth and clams spooned on top). Fill bowl with noodles first, top with broth and a few opened clams, sprinkle sesame leaves on top, season to taste with salt and pepper, enjoy!
More clam recipes and cooking directions can be found by clicking the yellow box below!