I have a new love.
Pinterest
.
Seriously. Best. Idea. Ever.
Virtual-themed bulletin boards where I can pin things from the world-wide web that inspire me, enlighten me, bring me joy, etc. LOVE!
Wouldn't have found
this delectable recipe
without Pinterest...just sayin'.
Browned Butter Brownies: Ingredients/Directions
10Tbsp (or less, try 7-8) butter melted in a saucepan. Let butter get frothy and brown but avoid burning, should take 6-8 minutes. Add to saucepan: 1 1/4 cup Sugar, 3/4 cup Cocoa, 2 tsp. Water, Dash (or two) Cinnamon, Dash of Salt, and 2 tsp. Vanilla. Let mixture set and cool for about 5 minutes. Whisk in 2 eggs (or 1 if that's all you have, it'll still work - I promise, I know) one at a time - mixture will be thick, dark and shiny. Stir in 1/2 cup flour, whisk vigorously for about 2 minutes before stirring in 1/3 cup Chocolate Chips or diced chocolate bar. Pour into greased square or round pan bake at 325 for 20-30 minutes.
Ours were incredibly gooey and OH-so-delicious with a cold glass of milk!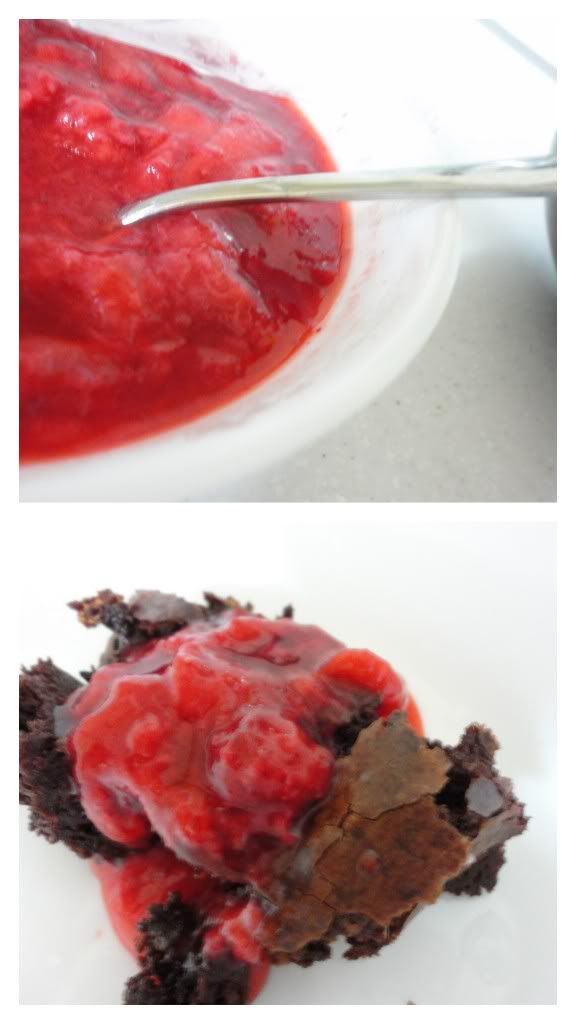 For Strawberry sauce I simply sliced a dozen or so frozen strawberries, dumped them in a sauce pan, added sugar and heated, adding additional sugar until I fel the sauce was of appropriate sweetness - start with 1/4 cup or less sugar and go from there!