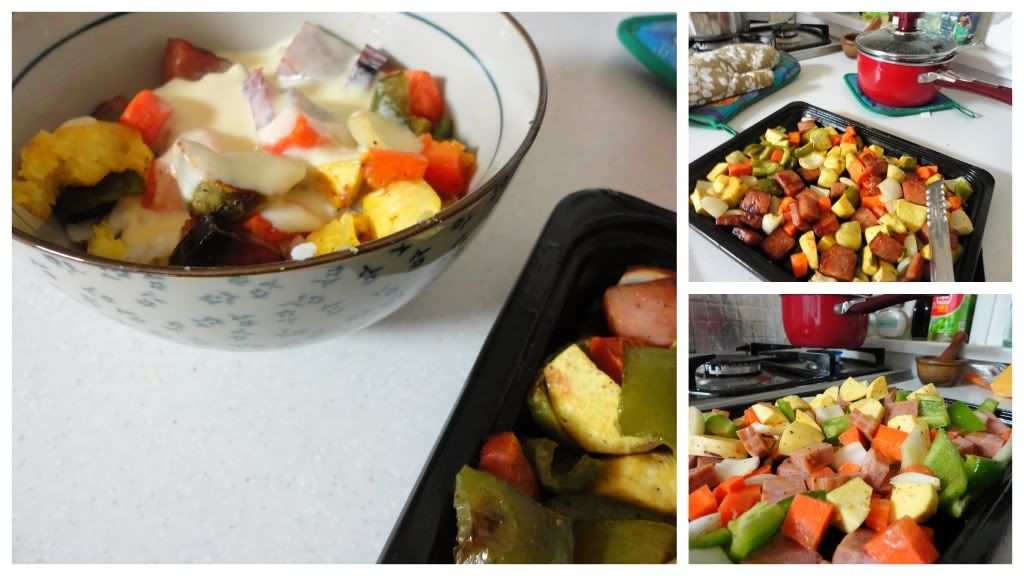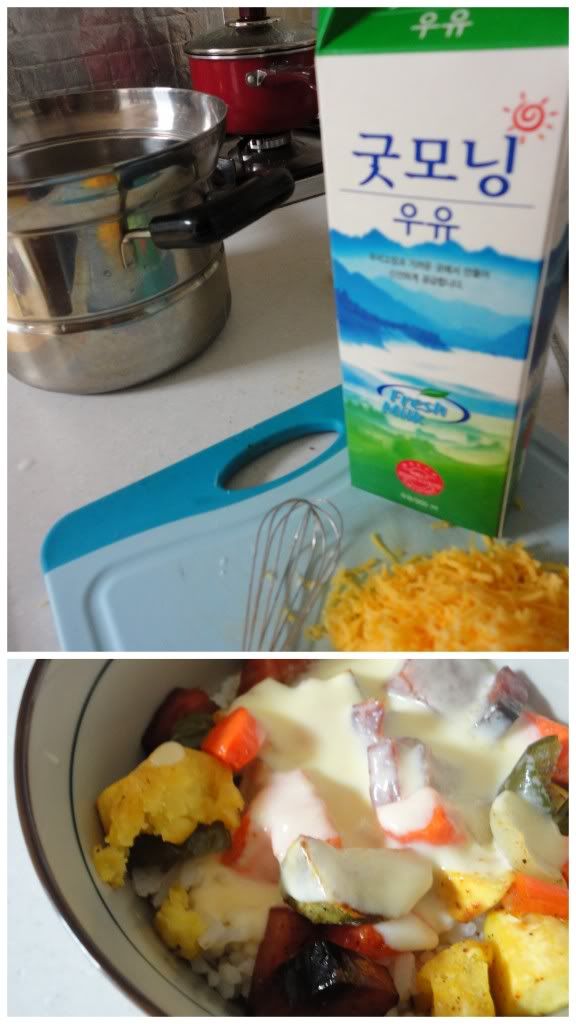 Again, I've found myself using Pinterest to mark a good idea and to find inspiration. A recent inspiration from the world of Pins and Likes and Re-Pins was a 'Choose Your Cheese - Cheese Sauce". I love cheese. And I love choices and a recipe designed for making substitutes.
I won't go into details on roasting veggies, as it's a fairly self-explanatory concept. This particular dish I threw into the oven a few sweet potatoes, carrots, an onion, bell pepper and some chunks of ham. The veggies had been coated in olive oil, salt and pepper. I left the veggies and ham in the oven until they were cooked through and tender (the sweet potatoes in particular). I also served this dish with rice - Rice, Veggies and Ham, Topped with Cheese Sauce.
As for the Cheese Sauce, it was quite simple and quick to put together. Specific measurements can be found
here
, however, I'm notorious for simply reading an ingredient list and throwing together the amount I deem acceptable for the time being (or available at the time). Therefore, my cheese sauce looked more like this:
Milk
, about 1/2 cup (not sure because we were about out, so just dumped the rest of the carton in), melt
2-3 Tbsp. Butter
in the milk, whisk in about
2-3 Tbsp. Flour
. Heat on stove top, add
shreeded cheese
(Cheddar for me) about a cup or two, dash of
salt
,
pepper, cayenne pepper
and
nutmeg
. Ensure the cheese has melted and the sauce is your desired consistency, viola - you are finished!