Have you heard? I have fresh herbs, growing in my kitchen...yeah, I thought so. Did you know? They are a constant source of inspiration? Yeah, I suppose that was a given as well. AND, I'm trying to be more deligent about eating breakfast...
Not surprised.
Well, did you know I have downloaded an unholy amount of free cookbooks on my Kindle? I have. And I'm trying to up the anty of using those cookbooks to inspire my cooking. I was particularly excited about recent download of
Super Scone Recipes - How to Bake Scones Like A Pro!
Having a special love for scones made with heavy cream and a container of heavy cream anxiously awaiting use in the fridge, I quickly found a suitable recipe, threw in my own twists and came out with these delicious and savory Basil and Parmesan Cream Scones (I would have loved to add chopped walnuts, but didn't have any on hand at the time.)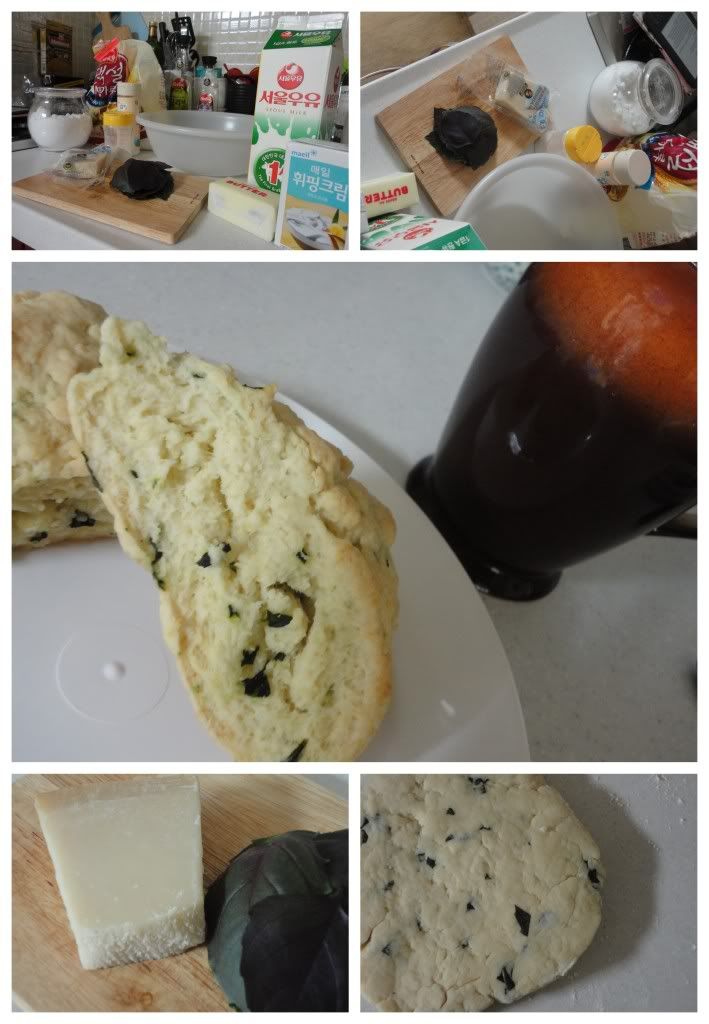 Ingredients/Directions:
In a large bowl, mix together
3 cups Flour
,
2 Tbsp. Baking Powder
,
1Tbsp. White Sugar
, and
1/4 tsp. Salt
. Make a well in the mixture and add
1/3 cup melted Butter
,
3/4 cups Heavy Whipping Cream
, and
1/4 cups Milk
. Stir slightly before adding
one Handful chopped Fresh Basil
and about
1/4 cup of Grated Parmesan
. Incorporate all ingredients until you have a soft dough. Place dough on a floured surface and flatten to a 1/2 inch circle, cut into even triangle sections and place on a prepared baking sheet. Bake 10-13 minutes at 425*F (220*C). Enjoy with an evening meal or with a runny egg for breakfast.