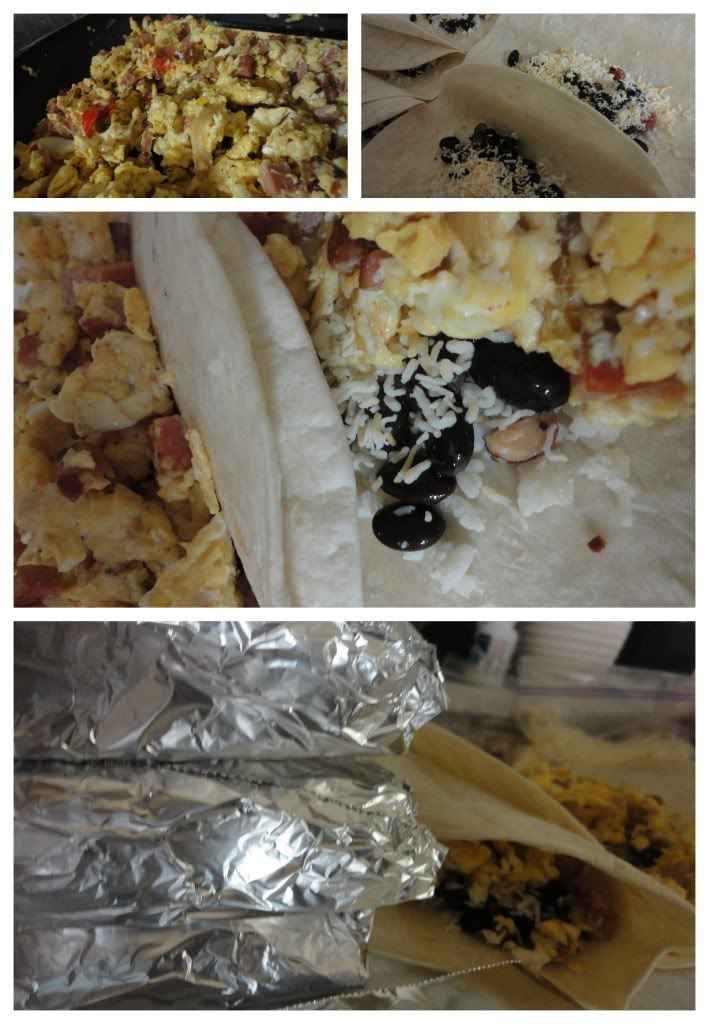 The truth is, I'm not in love with my job co-workers co-worker. And I'm working really hard to battle that, as in trying to be professional, as in trying to put my best self forward for the other co-workers and most importantly the students, because the truth is, I do love my job. I cannot get enough of my students participating and learning and smiling and laughing and having a good time.
But this space isn't for those kinds of observations. However, in an attempt to ensure I'm putting my best self forward, I'm trying to commit to having a fully nutritious and filling breakfast before I step into my work environment. A few days last week, that meant
breakfast rice bowls
. The last days of last week and the first days of this week, it means these egg and rice breakfast burritos.
I made 6 of them, wrapped them in foil and just after I finish doing my hair in the morning, I pop them in the oven for 10-15 minutes while I do make-up and get dressed. Then, I have a hot and nutritious breakfast. And that's a really small way to ensure I at least start my day in the right direction.
Ingredients/Directions:
Defrost
one cup of Rice Pilaf
and
one cup of Roasted Veggies
(or prepare a cup of rice and cup of veggies). In a touch of
olive oil
, brown about
1 cup of cubed Ham
before adding chopped roasted veggies and
garlic
if you'd like for your morning meal. Meanwhile, whisk together
6-8 eggs
and pour over ham and veggies, scramble until eggs are no longer runny. Assemble burritos in
large flour tortillas
with a bit of rice, small scoop of
black beans
and the egg mixture (or any breakfast filling you desire, I think next time I'll do the egg mixture and potatoes - no rice or beans), sprinkle on some
cheese
, roll and wrap in aluminum foil to be heated at a moment's notice.