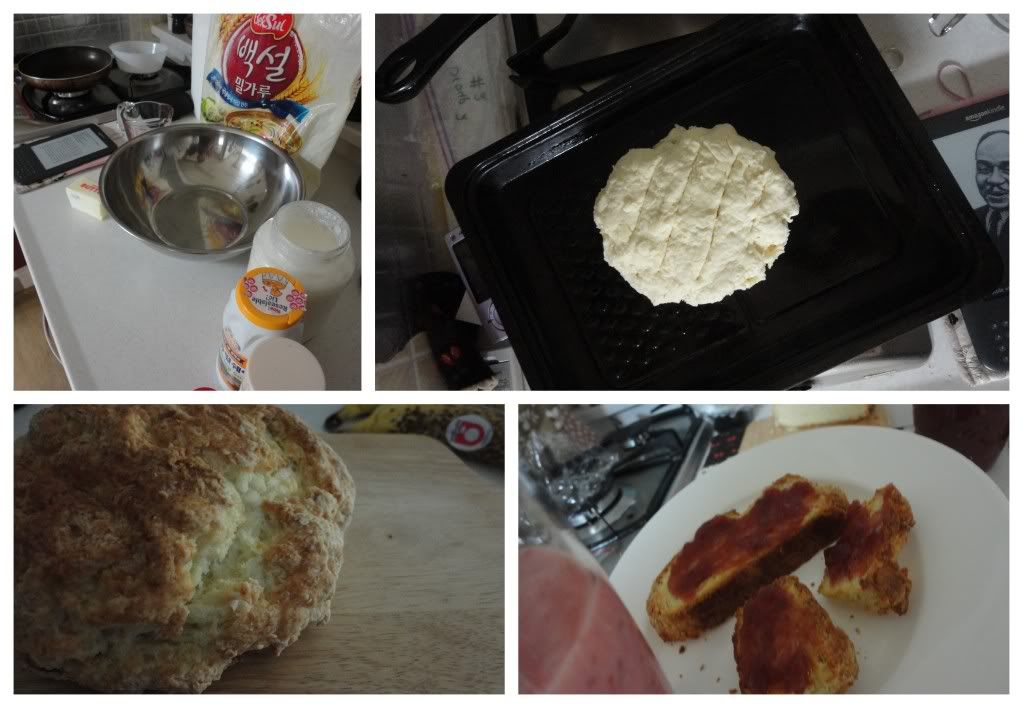 Wanting to ensure we would have breakfast to look forward to on Monday and for a last chance using up some sour-home-made-yogurt-that-was-kind-of-like-buttermilk I hit my Kindle collection of cookbooks and searched for 'buttermilk'. Many things turned up, but the one that sounded quickest and easiest was a Soda Bread from a cookbook about Gypsy Cuisine (although, if you read the Amazon reviews some folks don't agree about the authenticity of the recipes - I know nothing about traditional or non-traditional Gypsy Cuisine...but am still calling this Gypsy Soda Bread, sorry if you find such offensive)
Ingredients/Directions:
From Gypsy Feast: Recipes and Culinary Traditions of the Romany People
by Carol Wilson
Preheat oven to 400*F (204*C). In a large bowl mix
2 cups Flour
,
1 tsp. Baking Soda
,
1 tsp. Salt
and
1/2 tsp. Cream of Tartar
. Rub or cut in
2 Tbsp. Butter
until well dispersed. Make a well in the center and pour in
1/2 cup Buttermilk
, mix quickly until a dough is formed. Knead lightly on a floured surface and roll into a round about 1 1/2 inches thick. Mark the top with four cuts. Bake on a lightly greased baking sheet for 20 minutes, until golden and sounding hollow when tapped.