This evening (that's right, this evening, as in, I'm posting a blog merely hours after having eaten the meal - I do believe that's a first) I went to work harvesting some fresh basil from my fabulous AeroGarden which was a Christmas gift from the man.
It's been a day of throwing fresh herbs into whatever I can, and I'm lovin' it! Hoping I can manage these greens well enough that they keep producing for me for a while at least.
Using
this
recipe from Menu Musings of a Modern American Mom, I created a dish that was truly satisfying and used up a number of ingredients I had on hand. I did, of course adjust the recipe to my availability of ingredients and personal tastes.
Here is what I came up with:Roasted Pepper and Onion, Almond Basil Pesto Pasta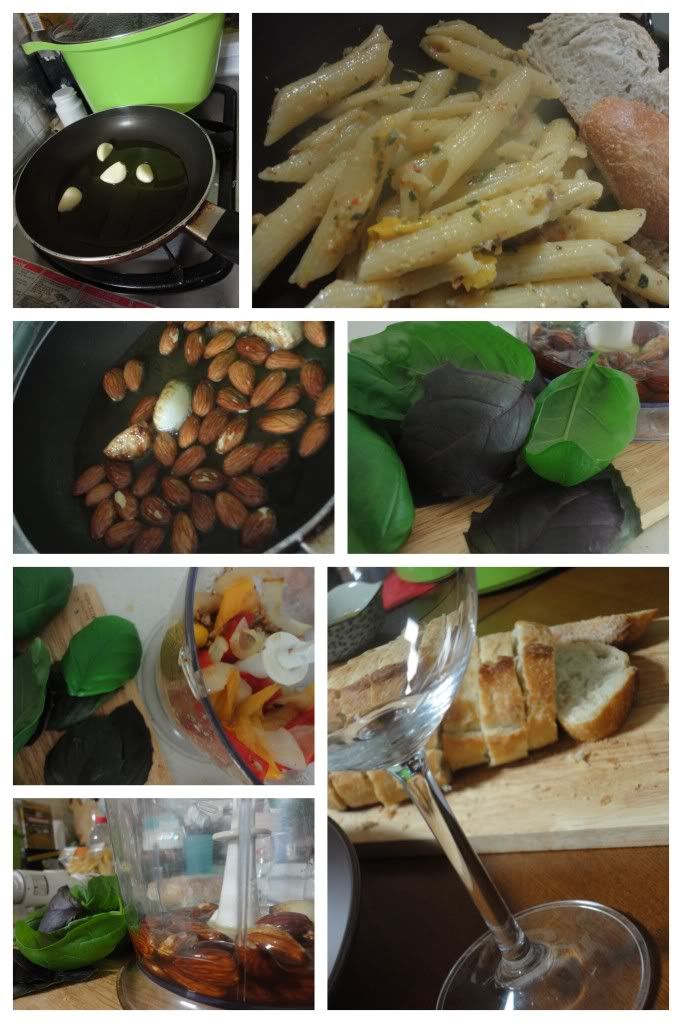 Ingredients/Directions:
Bring a large pot of water to a boil. In a small skillet toast
4 whole cloves of Garlic
in
1/3 cup room temperature extra virgin olive oil
. As the garlic begin to toast, throw in
1/3 cup of Almonds
and toast a couple minutes longer. Transfer ingredients from skillet into a food processor and pulse until a rough paste is formed (add additional EVOO throughout the process if necessary). Next, add
1/3 cup of cubed Parmesan
to the food processor, pulse. Repeat that process with
1 cup of roasted peppers and onions
then again with
1 cup of fresh basil.
During this time, keep your eye on the water and add
1 lb. of Penne Pasta
once the water begins to boil and cook until al dente. Reserve
one cup of the pasta water
(or you can have
1/2 cup heavy cream
available) and drain the pasta. In the large pot, mix about 1/4 cup of the pasta water with 1/2 of the Pesto, continue adding pesto and a bit more water until you have the desired consistency in the sauce (not too runny, but not to stiff either), toss in the pasta, serve with additional Parmesan and basil with a fresh baguette and bottle of homemade wine, bon appetit!