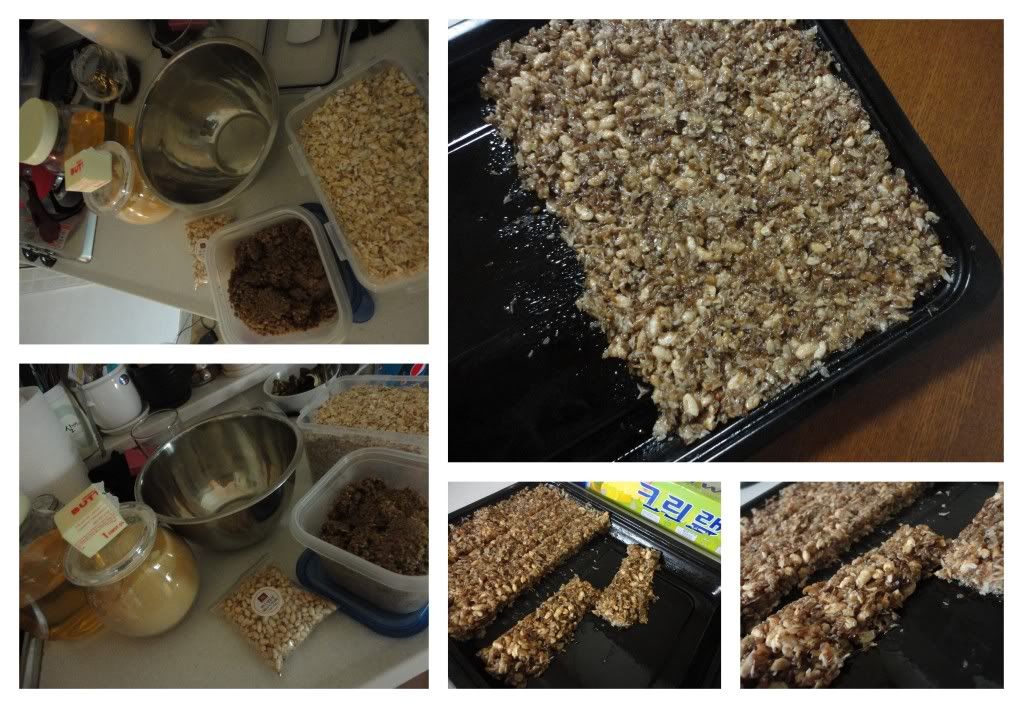 I saw
these No Bake Granola Bars
on Pinterest recently and was confident I needed to give them a shot using up some spent grains. As is common with spent grains, they add a lot of moisture. I didn't perfect this, and should have actually prepared the Granola Bars without making so many substitutes so I could get a better feel for their texture/consistency and would have a better idea on how to adjust the recipe upon adding spent grains. However, I think were I to try again, I'd just add a bit more oatmeal - probably actually what the original recipe calls for and just add spent grains as if they were flaxseed, so a couple tablespoons or so - rather than trying to make a primarily spent grain bar - but then again, who knows, spent grains are more common in our household than oats.
Ingredients/Directions: (this is how I plan to try it the next time!)
In a large bowl, stir together 2 cups of oats, 1 cup of popped rice (or rice crispies other puffy cereal) and 2-4 Tbsp. Spent Grains. In a small pot, melt 1/4 cup butter, 1/4 cup Honey and 1/3 cup Brown Sugar over medium heat until it begins to bubble. Reduce heat and cook an additional 2 minutes. Remove from heat and add 1/2 tsp. Vanilla. Pour this mixture over oats, grains and cereal, mix well. Pour into jelly roll pan and pack it in TIGHT! Cool at room temperature 2 hours, wrap in plastic and continue to store at room temperature - the refrigerator will supposedly make them hard as a rock, no good.